Do your remember the first time you read
The Outsiders
?
I was in the 8th grade and it is actually the first book that I remember absolutely loving!
Better yet, do you remember watching the movie?
This is the only time I have ever enjoyed the movie more than the book!!! OMG Matt Dillon, Ralph Macchio, Rob Lowe, Emilio Estevez, Tom Cruise and Patrick Swayze all in the same movie!!!! I think this movie was the beginning of puberty for me.
Here's a quote. Can you name the movie?
"Pain don't hurt."
Nothing better than a rainy Sunday on the couch with my hubby and some Road House (ahhhhh)!

Ohhhh and remember
Point Break
?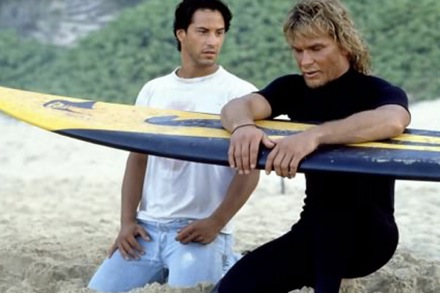 And every woman's favorite...
This is my favorite scene, other than the end of course!!!
Don't need a rainy day or the couch or even my hubby for this one (No offense dear, it is better when you watch it with me!). Any day is a good day when Dirty Dancing is on! I was ten years old when this movie came out. My mom went to to see it three nights in one week with her sister and cousin and I wanted to go, too. However, she sheltered me until it came out on video beacuse of the "Penny scene". Even when she finally let me see it, I didn't really understand what went down there, but I sure thought Patrick Swayze was HOT and I wanted to be Baby!
She did let me watch this mini-series on TV with her when I was eight. I never missed a night of it - The North and South
Join us this month for Patrick Swayze's book, The Time of My Life.

What is your fav Patrick movie?